Reports in the UK suggest more riots may be about to take place in prisons accross the country in the aftermath of the most violent rioting seen in uk jails in over two decades.
Around 240 prisoners were moved out of HMP Birmingham following the "worst prison riot since Strangeways" more than 25 years ago after keys were stolen by inmates on Friday evening.
Chaos erupted in Four wings at the Category B prison as prison guards were overrun by inmates, during the siege which lasted for more than 12 hours before police and guards took control of the situation.
With riot teams deployed inside HMP Birmingham inmates set fires inside the building and posed in pictures shared on social media, showing inmates wearing riot gear obtained from authorities.
A Ministry of Justice spokesman confirmed 240 prisoners were being transferred from the prison following the "serious disturbance", which resulted in serious damage in two of the wings.
"The prison remains calm and ordered with additional staff on site to offer support," the spokesman added. The Prison Service will continue to work closely with G4S to manage the prison safely over the coming days."
Fears are now growing of more incidents, with HMP Hull being one prison on high alert.
In a further escalation of the weekends events, the attempts from the government to ease the pressure on the prison system may of backfired, as 15 inmates transferred from Birmingham to HMP Hull have now set fire to CCTV cameras and a statement from Prison Officers' Association says the jail is in lockdown.
Mike Rolfe said trouble flared after the prisoners arrived at the category B jail from the Midlands. "We understand 15 prisoners were transferred to Hull and one of those prisoners, thought to be involved in inciting the riots along with others at Birmingham, assaulted a senior officer yesterday," Rolfe told the Guardian.
The Prison Officers' Association claimed that inmates at HMP Hull were under lockdown, with only a few allowed out of their cells at a time. The union said CCTV cameras were set on fire and that some inmates had refused to return to their cells after the arrival of the 15 men.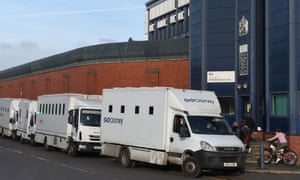 A Ministry of Justice source disputed claims that the prison was on lockdown. He said one prisoner had tried to damage a CCTV camera, but denied that several had been set alight. "A few prisoners were unhappy about being moved and there was a minor altercation, but this was dealt with well by the staff," the source said.
A Ministry of Justice spokesman said: "HMP Hull, like all prisons across the estate, is being closely monitored for signs of potential unrest. That includes managing the transfer of prisoners in the interests of maintaining safe, calm and normal regimes. We have specially trained prison staff available to respond to any disturbances."