Jennifer Arcuri, Boris Johnson Honeypot: Andrew, Epstein, Maxwell, Markle
Jennifer Arcuri Boris Johnson affair ignites Andrew, Epstein, Maxwell, and FBI links. British Government and Monarchy in potential honeypot?
Jennifer Arcuri admits to Boris Johnson Affair but what grim connections does this bring back to the surface?
Jennifer Arcuri has again spoken of her alleged affair with Boris Johnson and has also suggested, the now Prime Minister, sought sexual photographs to alleviate him from the stresses of his work.
Jennifer Arcuri has spoken about her time with Boris Johnson in a new interview that you can see in brief below.
Who is Jennifer Arcuri?
Jennifer Arcuri's recent interview has served as a reminder of an article from Enchanted LifePath in 2019 that highlighted various connections between Elite members of the British establishment, Jeffrey Epstein, Ghislaine Maxwell. US President Donald Trump, US law enforcement and counterintelligence services, and more.
The article also highlighted research from Alun Roberts who had posted a series of Tweets in September 2019 regarding Jennifer Arcuri's very deep connections that also highlighted her huge potential for a honeypot trap surrounding Boris Johnson.
I have copied the info about this from my 2019 article which contains research and reports about Boris Johnson's reported ex-lover, Jennifer Arcuri.
Jennifer Arcuri on 2019 Enchanted LifePath Report About Prince Andrew & Jeffrey Epstein – Were The British Monarchy Plotting Their Own Downfall With Psy-Ops?
Close to the end of his BBC Newsnight interview, Prince Andrew mentioned his affiliations to various organisations and charities.
One of the charities was Outward Bound Trust where Prince Andrew was Patron after being handed the role by his father, Prince Philip, as he stepped down from the position in March 2019.
Andrew has now resigned from his Patronage of Outward Bound Trust, a charity that works with vulnerable children with learning difficulties.
The organisation takes children on educational trips in the wild.
All bridges are being burnt fast with the close connections to Epstein proving a huge problem for any institutions that are linked to the Prince.
Boris Johnson scandal Jennifer Arcuri
Prince Andrew did not expect so many people to be so sharp-eyed after his disastrous interview and his links to Outward Bound Trust take a twist for the worst as far as he is concerned and this next one brings current prime minister, Boris Johnson into the saga.
in 2019, Dame Alun Roberts made some startling reports on Twitter regarding Prince Andrew and his connections to various schemes ran by paedophiles or people connected to them.
This is where Boris Johnson's ex-girlfriend Jennifer Arcuri, 34 comes in to things.
On the 3rd of October, 2019, a media bidding war was underway for the exclusive rights to a tell-all interview with the US businesswoman at the center of a conflict of interest row involving Boris Johnson.
Boris Johnson affair with Jennifer Arcuri
Two days earlier, a laptop belonging to Arcuri had been reported stolen with the information that she had an affair with the PM.
The laptop, stolen in Britain is said to contain pictures and emails from when she was close to the then-mayor of London.
Jennifer Arcuri, 34, is said to be terrified that personal information about her time with Boris Johnson on it will be leaked – hence the controlling of the media before that information surfaces with proof of emails, contact details, images and other damning evidence.
Jennifer Arcuri connections to Prince Andrew, FBI, Ghislaine Maxwell and Outward Bound Trust
It is Jennifer Arcuri connections to Prince Andrew that may come as quite a surprise to most.
Dame Alun Roberts reports: BoJo's girlfriend Arcuri does seem to gravitate towards criminals!
Not only was she in business with LIBOR rigger Hayes, her associate at Hacker House, another person at one of her companies, was Lauri Love, a computer hacker who stole large amounts of data from US government agencies.
It is worth noting how Arcuri's Hacker House had the endorsement of Epstein's sleazy buddy Randy Andy: Hacker House advises organisations on cyber-security, teaches youngsters online skills, and has the backing of the Duke of York for its scheme awarding cyber badges to children (at Outward Bound Trust).
While BoJo's pole dancer was offering Randy Andy endorsed cyber-security, her cousin Lawrence Lessing was a trustee of the Internet Society, a position held, albeit at different times, by Ghislaine Maxwell's sister Christine.
Christine Maxwell was CEO and President of Chilead Inc., the company providing the FBI with its counterterrorism database. She was also steering committee organiser for 'Remembering for the future' whose list of patrons resembles a carbon copy of Epstein's list.
Watch Video: Why Ethical Hacking is so important in a 21st century economy | Jennifer Arcuri | TEDx Liverpool
Hang on, isn't that guest speaker at Arcuri's InnoTech Summit with BoJo our dear friend Alexander 'Lord' Carlile? The man who rushed to the defence of the paedophile Greville Janner and shared an office with Cyril Smith?
End of Alun's report. You can read more from Alun by going to his Tweet below or the full thread is available via thread reader.
BoJo's girlfriend Arcuri does seem to gravitate towards criminals!
Not only was she in business with LIBOR rigger Hayes, her associate at Hacker House, another of her companies, was Lauri Love, a computer hacker whole stole large amounts of data from US government agencies … pic.twitter.com/qJ5zUjAjVC

— Dame Alun Roberts (@ciabaudo) September 23, 2019
Harry & Co To Lead Royal Game Show on The World Stage?
In 2019, it was two years after Prince Harry told Newsweek that no member of the Royal family wants to be King or Queen. We then had planted stories in the media saying people are calling for the abolishment of the Monarchy after the Queen dies!
That line alone tells you a story when you read between the lines. It had a political motive so it is most likely fabricated by think-tanks planting seeds and using emotional control tactics to shape public opinion with a typical formula.
Problem (Andrew and Epstein), Reaction (being hyped up by news outlets using polls, interviews, and publications) Solution (abolishment of the British Monarchy).
This looked to me as if they had found a way out and it explains a lot of the drills we saw around Buckingham palace in the build-up to recent events including Covid-19.
You can read the full 2019 article with even more information, opinions and resreach below.
2019 was a very eventful year and if it were not for 2020 and 2021 we would still be talking about what happened 2 years ago today.
The Baby Fell – Meghan Markle in Fake Bump Rumours Before Archie's Birth
The ridiculousness of these people goes beyond outrageous when we look closely at rumors of Meghan Markle appearing in public with what many observers claim was a prosthetic baby bump mimicking her pregnancy.
These suggestions were made after a series of public outings from the now-exiled couple when Meghan's belly seemed to be all over the place.
One of those days was spent on a trip wooing crowds in Birkenhead, which is in an area on Merseyside called the Wirral that is located on the opposite side of the River Mersey from Liverpool.
You see how Meghan's belly is bursting out of her dress during the start of the ceremonies, but as the day goes on the bump seems to become less apparent and is even disputed to have fallen down to below her knees at one point. All of this was caught on camera of course.
There are lots of images online pointing out oddities in Meghan's day out in Birkenhead.
This was on January 14, 2019, meaning Meghan was five months pregnant at the time. Many people have also questioned the size and location of the bump, stating it seemed to be too big, and too high.
Below we can see how the International Business Times reported on how Meghan's pregnancy was questionable.
This was also published on the 14th of January, the same day as the visit to Birkenhead.
Don't forget Harry's role in all of this, the ginger whinger has most likely helped her put this fake belly on, get it in place, probably agreed with her that it looked fine, and so on.
Let's add further human nature to the scenario, if possible with these deviants. If Harry wants to play the "I Didn't Know" card, then he would have to be claiming Meghan duped him into a false belief of this possibly fabricated and acted-out pregnancy being true.
Harry would have had to have not noticed this contraption whilst his wife was in bed with him. He must not have grabbed her for a cuddle and thought, or said: "What the hell on earth is this? Are you a nutcase Meghan?".
Did Meghan manage to evade Harry for nine months or is the alleged Royal reject part of these deceptive, 'Cabin In The Woods' style games that are being played on the public?
Meghan Markle and Prince Harry visit Birkenhead, Merseyside
The video above from Ch5 shows footage of the day. The producers unwittingly including how Meghan managed to pull off several squats without reduced ability or speed despite allegedly being over 5 months pregnant.
How she performed such stunts without flinching or feeling any shooting pains has often baffled female observers of these clips whenever I have pointed them out.
I am not female so I have no knowledge of the discomforts of pregnancy so I ask friends who are mothers who then advise me on subjects that men do not have common, or general knowledge of.
She squats to her knees to greet young members of the crowd. This is done in one swift movement with her knees touching together and holds the stance for around a minute before getting back up all without any assistance.
Meghan's actions are deemed unbelievable for someone with such a large bump. The image below is just one of many occasions she did this that day.
There are other times when it has happened too. Once, a strange noise was heard that is said to have been the fake belly after rubber ripples were de-kinking themselves when she stood up after this meeting as seen below.
We then have the alleged Tweet that was supposedly sent out by the Kensington Palace Twitter account on the day that Archie's birth was announced.
The Tweet stated that the Duchess of Sussex, Meghan, had used the services of a surrogate mother for Archie.
When looking around to find any sources that can discredit this, it has been difficult. I would ideally like to find two or three sources to be extra sure, but as of now, this one remains an unsolved mystery that happened in the world before the role of the all-knowing fact-checkers.
I actually sent my video about Harry's strange mix-up regarding the date of birth of his son to well-known mainstream media fact-checkers to debunk it but I have still had no reply.
The Royal Baby's Role in The Black Lives Matter Psy-Op
We have seen many race-related events surrounding Archie since he was born. As soon as the birth was announced to news outlets we had Danny Baker's alleged racist Tweet when he posted a picture of a chimpanzee walking out of hospital with two adults, one holding its hand in a black and white image that was captioned "Royal Baby Leaves Hospital".
I Covered the Danny Baker incident and connected him to Shriner Freemasons by his Fez hats that he constantly wears.
Was this the start of the pre-meditated attempts to create civil divides between races?
This article was published on May 10, 2019, just 4 days after the alleged birth of Archie Harrison Mountbatten-Windsor.
Fast forward to the current day again, we are at the start of April 2021, we have recently watched Prince Harry and Meghan Markle tell the world that the Royal Family was institutionally racist and had made Meghan's life hell.
The platform and the person who interviewed them was none-other than Oprah Winfrey, this guaranteed the race card would be successful to those who were small minded enough to believe anything any of these people say.
Bear in mind how I have been saying for years how the Royals are looking for ways to self-destruct and the Prince Andrew affair followed by Covid-19 then the Meghan Markle saga all point towards a very shaky time for the British Monarchy.
But again, I ask is this all by design?
Let's break this down into simple terminology.
Have we got a situation whereas the Royal Family have allowed Meghan, a known actress into Harry's life to play the role of a narcissistic wife who is intent on bringing down the institute that so many people in this country so blindly love and adore?
Add to the situation, the possibility of a mixed race fake surrogate Royal-baby starring in the pantomime and being centre of another attempt to pit races against each other.
This was done by focusing the main points of the Oprah interview on the allegations around racist remarks within the Royal Family about Archie.
Is this part of the Great Reset that is being pushed on all aspects of our lives?
When Harry spoke in 2017 he stated no Royal wants to be King or Queen but they will carry out their duties in the best interests of the public when the time is right.
Was this another pointer towards what we are living through with Covid, even though millions of people worldwide can see through the lies within the pandemic? We still have many people who follow the leader and believe all they are told.
It is these sections of the public who are the audience in this game show, it is them whose emotions are played with on a daily basis. It is them who will believe these clowns are doing these things for the best interest of the people who they are served to represent.
This could not be further from the truth.
All this at a time when George Floyd is still in the minds of all newscasters, producers, sports channels, advertisers, football players, influencers, the list goes on.
Plant the seeds and watch them grow comes to mind.
All of this seems that far-fetched that it beggars belief, I mean the claims and slips -ups from these imposters and not my article, my article is fine, in my opinion, it is these who are bogus.
So let us look into why the Royal Family may be involved in a honeypot sting operation that is part of why we are being bent over a mega barrel as the country is told what to do by tyrants on a daily basis.
The UK has turned into a national Okie-Kokie dance-off since the Covid-19 pandemic of stupidity kicked off in 2020. It first started with fake footage of zombie-like deaths taking place on the streets of Wuhan as early as Nov-December 2019.
So, what is going on? What has Meghan got to do with any of this and why could she be involved in a honeypot?
Two words – Jeffrey Epstein… Meghan is connected to him up to her eye-balls… Let's look into why.
Meghan Markle's Epstein Connections Add Further Substance To Royal Honeypot Psy-Op Theory
Okay, okay, how is Meghan connected to Jeffrey Epstein? I hear your brain ticking over awaiting the answers so I won't mess you about and show you right away.
Meghan Markle has a best friend called Markus Anderson, he constantly pictured with her and they seem a lot closer than she is with Harry.
Markus Anderson works for Soho House, a gentlemen's only, elite club which is owned by Jeffrey Epstein's friend Ron Burkle who is also listed in Epstein's black book of addresses and contacts. Burkle was also reported to have been on board Lolita Express flights.
Markus Anderson is said to have played cupid between Prince Harry and Meghan Markle in 2016.
You can see below how Markus works for Soho House which is owned by Jeffrey Epstein and Bill Clinton associate Ron Burkle. Ron is known to have flown on Epstein's Private Jet with Clinton who denies claims he took part in the sordid flights.
Below we can see a Vanity Fair report stating how Epstein, Burkle, and Clinton often spent time together and how Ron had his own private jet dubbed Air F*** One.
Burkle, a billionaire, was a key financier of Bill Clinton's presidential campaign, another of their friends recently committed suicide in 2020 by jumping to his death. This friend was Steve Bing. He is also mentioned on the artiocle below.
Vanity Fair reports: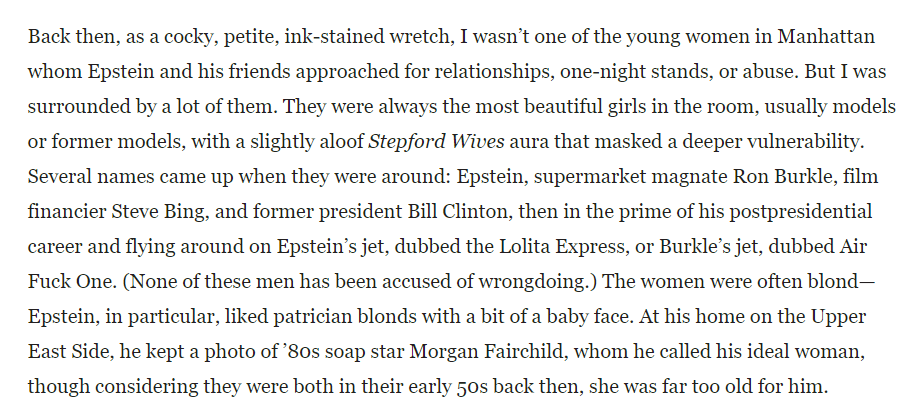 The massive elephant in the room here is we have an exiled prince who is shacked up with an actress who was put onto him by a man who works for a very well connected Jeffrey Epstein associate. Enough said.
Honeypot or Crunchy-Nut Cornflakes? You decide, I have presented the info and my opinion is we are being played like fools. The government and monarchy are either plotting their own downfalls or they are being blackmailed.